How Things Work Within Our Website
You Have Questions? We Have Answers.
And, You Can Still Email Us!
Who is Our Divided World?
I am H John Johnsen and have been called upon by the Holy Spirit to design these posters and have been working on them daily for the past several months and have a backlog of designs to complete with more to come.
My background is in advertsing, design and marketing and I have been blessed with the ability to draw, write and design and I am very thankful every day.
Can I purchase the posters?
The posters are not available for purchase at this time but are being considered for a later date.
Can I download the posters?
The posters were designed for everyone to read, learn and apply the thoughts and ideas in their daily days. You can use the poster for personal use only as greeting cards, screensavers, emails and messaging. 
Can we use the posters in our church?
Churches can use the posters in their services and for newsletters only. Posting them on your website requires attribution for H John Johnsen. The posters can't be used for sales or any money making events without the expressed written permission of H John Johnsen.
Why were the posters designed?
The posters started at the end of 2017 and there was a long period before the designs picked up again with a slow trickle. The way I see it is that God gave me the ability for design so it was decided to use me to help everyone and try to heal our divided world.
Then I received thoughts of more ideas on a daily basis so much so that I had to write them down and quickly sketch them in my drawing book. 
The ideas are still coming and you can read the story on the page "The Next Greatest Story?"
Can we reproduce your poster for sale?
The posters are available for retail sales after contacting H John Johnsen with the appropriate forms and copyright information.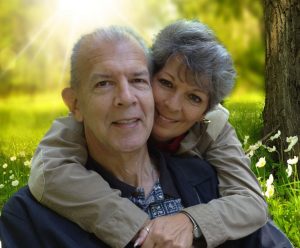 John & Jean are a spiritual couple determined to spread the Word of the Gospel to everyone.
Copyright 2018-20 – H John Johnsen & Our Divided World.com
Thank You For Visiting
Now Help Us Get the Word Out