Everything You Should Know
H John & Jean Millman-Johnsen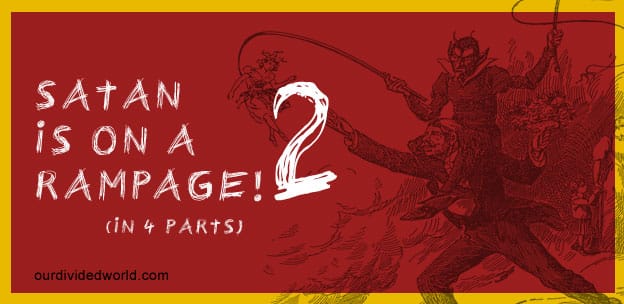 Table of Contents – Part 2
Satan's Rampage – 2: Everything You Need to Know
(Click on the chapter links to go directly to that section)
Shocking Facts About Satan's Rampage of Sin
Why Is Satan Doing This And what's His Purpose?
His Beginning Time Mission
His Present Time Mission
How Does Satan Cause Us To Sin?
So What Does That Mean They Don't Believe?
How Satan Secretly Influences You
The Real Problem Is Society
Is Starts With a Small Whisper
How Would You Know It's Satan?
So Who Is Running This Evil Deception?
An Example of Satan's Simple But Devious Influence
Are You a Child of Satan? Test Yourself
3 Tips If You Think You're Immune to Satan
8 Tips About Who Is Satan Really
8 Types of People That Are Affected By Satan
How Can You Fight Satan?
6 Facts You Need To Know To Break Satan's Grip
Accepting Jesus Christ To Break Satan's Influence
Can Satan Be Subdued and Defeated?
The Ongoing Battle For Your Soul
6 Thoughts To Ponder About Yourself
Need More Proof?
So, Why Is No One Talking About Satan?
It Starts With a Small Whisper
Satan is smart and knows how to cause people to unwittingly do his bidding. How many times have you done something bad and wondered, "Why do I do that?" The answer is simple. Satan planted a small thought in your mind and once that takes hold, you are hooked. And I mean like a fish with a hook in its mouth.
Can you unhook yourself? Can a fish? Even the fish needs help unhooking, and so do we.
The simple answer is that we all know what is right or wrong but choose to go in the direction (free will) that benefits us the most in terms of goods and money. Why? Because Satan can convince us that it is the best and easiest way to get the things we have dreamed about but at an unknown cost. Bad decisions always have a cost either immediately or in the long term.
Have you ever made a decision that you regretted weeks, months, or years later? Think about that.
Of course, you might be thinking that things don't look so bad. Look closer. Not just at your immediate surroundings but at the world as a whole. Viruses, food price increases, gender dysphoria, hate, anger, abortion, sexual deviations, global (not global warming) catastrophes, more UN-publicized wars, and death.
Sure, you can say this has been going on for ages, but today it is compressed into a much shorter amount of time. Just think about this. Only 119 years ago, we went from the Wright Brothers' first flight in 1903 to today's super and sub-sonic airplanes that can exceed 600 miles per hour and faster. In 144 years, we have gone from having no electricity to having nuclear power and lights almost everywhere on earth.
We have instant communication via satellites, and everybody uses cell phones. I remember when I used to visit customers and had to stop and use a phone booth (look it up) to call and ask for directions (no GPS) or use a paper map if you got lost.
That was back in 1980. It doesn't seem that long ago, but time sure flies by fast, so don't say things haven't changed much. They have changed a lot and continue to do so, even faster than in the past.
How Would You Know It's Satan?
The answer is pretty simple if you are a true Christian. However, it can be equally simple for an atheist, non-Christian, etc.
How simple? This is simple. We all have some knowledge of right and wrong, or good and bad, if you prefer those terms. It's in our DNA. Need proof? How many times have you thought about doing something but weren't sure if it was right or wrong? That's your heart and mind's DNA letting you know that you already know the difference because you had to think about the choice.
Basically, everyone knows about good and evil and the results of either one. To put it in simple terms… Good makes you smile, and evil causes you to frown or realize you are really in a bad place.
The evil one is Satan. He dislikes good doers. He will convince you that doing good has no material gain or purpose and will convince you that going to jail is a good thing.
John 8:44
If you are standing for a good cause, he will try to convince you to fight and argue with those opposing your thinking. Once you allow it, Satan takes over and you have now become one of his minions.
So, if you want to know if what you are doing comes from Satan, here's how. If it's bad, causes you grief, gets you locked up, causes you to fight with friends or family, brings out hate and anger, or makes you want to steal and lie, then it's from Satan!
So Who Is Running This Evil Deception?
The politicians, big business, the military, and anyone who can make money off the people, including the one percentile who have most of the world's money. Did you ever wonder why video game businesses claimed there was really no violence in their games? Or why do politicians lie about their plans? Why do gay/homosexual groups force their agendas on religious-based businesses?
Why are Jews and Christians persecuted even today as they were centuries ago? Why are there so many religious groups that either don't follow or have completely altered the Bible, and dislike other religious groups? I could go on, and probably so could you if you were writing this article.
Who Is Really Running This?
All these people think they are in charge of their lives, but it is really Satan guiding them and pulling their strings to make them believe they have the power. But, in the end, their little power, prestige, and money will be gone and they will be one of Satan's lowly minions destined for hell… forever.
Have you ever thought about what hell is really like? Not what you have seen in the movies or on TV. The Bible explains that it's continuous torture, with flames of fire hotter than the sun, constant suffering, and anguish with no relief… ever.
How Does Satan Influence You?
Every day we live our lives, usually oblivious to the outside world. The news is the one exception that we bring in from either local or world news.
Why? To keep ourselves from sticking our heads in the sand (a Satan quote), as many tell those who avoid the news. A better thought would be, "Why to avoid the news, or at least the world news?" Because 7/8th of the news is about murder, hate, anger, drugs, political problems, and world issues.
Satan employs the slow-drip of evil information to easily drive you away from good without you even being aware. But, I can't say all of it is evil. Every now and then the news broadcasts a 10-second "good feeling" event just to keep you watching and hoping there is more to break from all the bad news.
So, what's my point about the news? How do you feel after watching it? Angry, pissed off, and ready to do battle… with anyone? Why? Because the stories make you upset and angry. So who do you really take your anger out on? Family, friends, neighbors, or even strangers.
Ready for this? This has been part of Satan's plan from the beginning. He wants you to be angry, hateful and ready to do battle with anyone. His plan is to keep you in a constant state of anger and frustration.
Satan needs us to live in evil daily. The stress of work, nationalities we don't know, religious zealots, etc. Even those who receive hate are passed down from generation to generation. Prejudice has it's own following – "My uncle told me about…," which keeps the hate and prejudice moving forward.
Growing up I was never aware of Satan and felt like everything I did wa sOK. As I look back and see how bad my life really was. I understand now that Satan was influencing almost every part of my life and created a life that was hurtful, mean, and without responsibility. I can only thank Satan for that.
This was, has been, and is still Satan's agenda. To rule the people with evil, fear, hate, and anger, etc.
So let's recap. Satan is in charge here on earth (if you let him, and for now). He influences you subtly through whispers, the news, movies, video games, and social media (depending on where you venture online), and your cell phone connections.
Even a simple event in your life can trigger a battle if Satan wants your soul. And he definitely wants your soul!
A simple argument with a sibling or a friend over something really stupid can end a long-term relationship. I had a friend I knew for over 40 years, and the deceit from them ended that relationship, and unfortunately nothing I can do will change it. I've tried but it got in the way of a closer family relationship which eneded as part of it.
An Example of Satan's Simple But Devious Influence
I have the perfect example of a simple Satan-inspired event. It's called the
This started one early morning when I just started walking our dogs. It was a bright and sunny morning. Several neighbors were out (one next door and the other across the street), and were having a conversation when I realized it was a slightly heated one about a recycle can being moved horizontally about a foot. Now there is enough room in the driveway for 25 recycle cans being placed from left to right.
The neighbor on my side accused the neighbor across the street of moving it because they were the only ones outside at the time and she knew exactly where she placed it (not sure how).
This is some of Satan's finer work without using much effort.
I tired to intervene to lighten it, but the conversations got even more heated, with both women yelling at each other and the one across the street aggravating the situation even more. And I thought both people would have been smarter than to battle over something so trivial as the placement of a recycle can.
But tensions today have created an atmosphere of instant emotional explosions. This silly and unnecessary battle went on for several minutes and caused animosity and dislike of each neighbor.
Now women, for the most part, don't usually physically fight (they have a nature of nurture, not battle), so I can imagine what would have happened if it was 2 men. A physical fight, the cops. Jail.
Why? Because Stan was whispering in their ear that they were prideful people and should not be trifled with. That's his plan. To turn people against each other and create turmoil for the most simple of reasons, and unfortunately, he is doing a great job.
How many times have you done something to anger or piss off someone and then realized it wasn't your intention? Chalk it up to Satan finding a way into you.
EXTRA NOTE: Continue reading in our next Chapter post "Satan's On a Rampage: Everything You Need to Know – Part 3". Here is Part 1 if you want to go back: https://ourdividedworld.com/satan-on-a-rampage-part-1/
We post articles on Wednesday/Thursday of every week, sign-up for our newsletter below to let you know when it's posted, or mark your calendar and revisit our site.
More Information
We pray for all who fight to be free of Satan's grip, for the hope of Jesus Christ, and for salvation in your life. and, for those who don't we pray for you and hope you wake up.
John & Jean Johnsen
info@ourdividedworld.com
P.S. For all who don't accept Jesus and think they are right… what if you are wrong?
THE COMPLETE ARTICLE: Email us or sign-up for our newsletter, and we will send you the complete article in a PDF, so you don't have to wait for the next postings.
EXTRA NOTE: Here are some of our recently posted articles: